Easyjet meeting votes for pay deal opposed by Stelios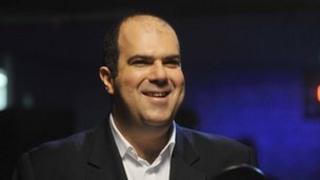 Sir Stelios Haji-Ioannou has lost his latest battle over directors pay at Easyjet.
Last month, Sir Stelios blasted the board at Easyjet saying they were overpaid and directors were using the airline as their "personal piggy bank".
But almost 56% of shareholders at the annual meeting voted in favour of the directors' pay package.
However, the airline announced that it will review the way executive pay is calculated.
It said it will look again at targets set for management. The firm bases directors pay on a measure of performance called "return on capital employed" (ROCE).
Sir Stelios and his family still own around 38% of Easyjet shares, and almost all the dissenting votes were from them.
'A sham'
Speaking at the company's annual general meeting in Luton, Sir Michael Rake, chairman of Easyjet, said: "It's clear from the votes cast that Easyjet's shareholders have overwhelmingly voted with the board and we thank them for their support."
"2011 was a record year for Easyjet - it achieved its best ever operational performance, highest ever passengers numbers, high levels of customer satisfaction, highest ever profits and will pay its first ever dividends of around £200m to shareholders. "
Sir Stelios argued that the ROCE measures inflated the airline's performance, and he welcomed the review of how pay is calculated.
"Change is in the air!" said Sir Stelios in a statement.
"I think this a great victory for shareholder activism. The promise to change only came about because my shares were cast against the motion
"Now everyone knows that Rake's ROCE calculation was a sham and needs to be changed so that management can be measured properly and rewards made appropriate to real performance," he added.
Sir Stelios, who founded Easyjet in 1995, quit the airline's board in 2010 after a row over strategy.