British Gas owner Centrica says profits up 1%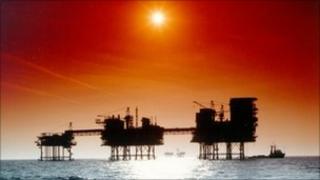 Centrica, the owner of British Gas, has reported flat annual profits due to the effect of a slump in demand in the UK.
It reported adjusted operating profits of £2.4bn for 2011, up 1% on the same period in 2010.
The results include a 30% fall in operating profits at its residential energy division, British Gas, to £522m.
The firm, which is the UK's biggest gas supplier, blamed lower energy consumption due to good weather and improvements in energy efficiency.
"2011 was a tough year, both for Centrica and our customers," said chief executive Sam Laidlaw.
"But the strength of our integrated business and balance sheet means we've been able to take the lead in helping customers through these difficult times, as well as delivering growth and making the investments on which Britain's energy future depends."
'Steady profits'
Energy firms in the UK have faced criticism from consumer groups for making profits at a time when customers are facing large hikes in their bills.
''The results of British Gas, Scottish Power and EDF, and predictions for Scottish and Southern Energy, all show fairly steady profits can be made in the energy business in all circumstances," said Adam Scorer, director of policy and external affairs at Consumer Focus.
"It is a very different experience from that of their customers who have seen bills soaring when wholesale prices have risen and only small cuts when costs have fallen."
Consumer Focus criticised EDF, whose results were reported last week.
Centrica's French rival announced that, although its UK sales fell 8.5% due to the good weather, a measure of its operating profits rose 8.5% in the same period.
"EDF Energy's UK profits have risen despite lower energy use in the milder winter," Consumer Focus said.
"We need successful, profitable companies. But consumers need to know big profit margins are not being made needlessly at their expense."
In its announcement, Centrica predicted that the longer-term trend in the prices it pays for wholesale gas and electricity would continue to rise.
The firm said it expects the average price that it pays for gas to be 15% higher.
Centrica said it stayed in profit due to its operations in North America and by increasing its prices for the UK in August 2011, when it raised gas prices by 18% and electricity prices by 16%. It followed this with a 5% cut in electricity prices in January.
The firm started to focus on diversifying its business at the start of 2012 and announced an agreement on Wednesday with France's Total on oil and gas production facilities in the Central North Sea.