Hewlett-Packard sales fall short of forecasts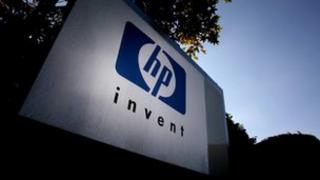 Computer firm Hewlett-Packard has seen a drop in first-quarter sales, as it attempts to turn itself around under new chief executive Meg Whitman.
Revenues for the three months to the end of January fell 7% on a year earlier to $30bn (£19bn). Analysts had forecast revenues of $30.67bn.
Net profit for the quarter nearly halved from $2.6bn to $1.5bn.
The fiscal first quarter was the first full period under Ms Whitman, who replaced Leo Apotheker in September.
HP saw sales decline in its key units of PCs and printers.
"In the first quarter, we delivered on our Q1 outlook and remained focused on the fundamentals to drive long-term sustainable returns," said Ms Whitman.
"We are taking the necessary steps to improve execution, increase effectiveness and capitalise on emerging opportunities to reassert HP's technology leadership."
The company's shares fell 2% in after-hours trading in New York.
On Tuesday, PC maker Dell reported an 18% fall in quarterly profit and forecast a drop in sales in the current quarter.