Greece downgraded by Fitch agency after bailout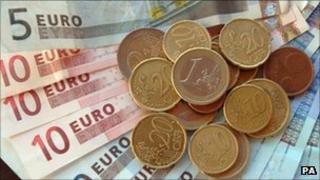 Greece has been downgraded by the ratings agency Fitch following the approval of its latest bailout deal.
The agency now classes Greek government debt as C, down from a CCC rating.
The downgrade was triggered by the deal between Greece and the banking industry, under which the banks will swap their existing bonds for new debt worth much less.
Fitch says the exchange, if completed, would constitute a "distressed debt exchange".
Once the bond exchange is completed, Fitch says it will look again at Greek government debt and issue new ratings.
Under the deal announced on Tuesday, banks and other investors in Greek government debt agreed to exchange their debt for new bonds that are worth much less and pay a modest rate of interest.
Including the reduced interest rate, the losses to the banking industry are more than 70%.