Travis Perkins profits boosted by merchant's division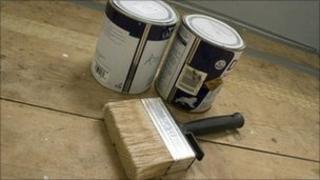 Travis Perkins, the owner of Wickes, has reported a jump in profits thanks to a strong performance in the building trade, but warned that the retail DIY market remains tough.
Overall profits jumped 37% to £269.6m.
The firm said the UK DIY market had shrunk by 25% since its peak in 2007.
That hit profits from its 200 Wickes and 107 Tile Giant stores, which slipped by £14m to £45m in 2011 as consumers cut back on buying kitchens and bathrooms.
Like-for-like sales across the group were up 6% over the year, boosted by a strong performance by its builders' merchant arm, which outperformed smaller independent stores.
The Northampton-based company said the full-year performance was helped by cost savings resulting from its 2010 purchase of the plumbing and heating firm BSS, as well as an increased market share.
The profit gain came despite a shrinking of 30% in the size of its trade market.
The company warned that 2012 was likely to see a further deterioration in economic conditions, with unemployment set to rise and the housing market expected to remain weak.