Eurozone service sector contracts in February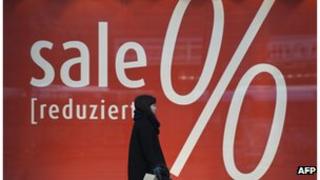 The eurozone's service sector shrank unexpectedly in February, a new survey suggests, increasing fears of a recession.
Markit's eurozone Services Purchasing Managers' Index (PMI) initial data fell to 49.4 from January's 50.4.
Any reading below 50 signifies a contraction.
Eurozone manufacturing also struggled, with the PMI for this sector rising to 49.0 from January's 48.8, the seventh consecutive month below 50.
Factory output PMI was unchanged at 50.4, but new orders fell for the ninth successive month.
Germany, widely seen as the eurozone's powerhouse, saw both its manufacturing and service sector PMI shrink.
By contrast, France saw its manufacturing PMI increase on strong exports, while its service sector PMI dropped from 52.3 to 50.3.
"Although business conditions are showing signs of stabilising so far this year, which represents a marked improvement on the widespread deepening gloom seen late last year, the eurozone is by no means out of the woods," said Chris Williamson, chief economist at Markit.
"Demand needs to improve considerably in coming months before we can safely say that the region will return to anything like reasonable growth."
Peter Dixon, an economist at Commerzbank, said: "It doesn't bode well for the first quarter of 2012, but to be fair we always said the first quarter wouldn't be very strong so it doesn't really come as any great surprise."
"The economy remains stuck in a low gear. It's indicative of a flatlining economy, maybe slightly contracting rather than a major slowdown."