Barratt Developments bounces back into profit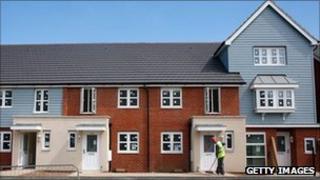 Housebuilder Barratt Developments has returned to profit after a loss for the same period last year and says it expects to recover further.
The company said it made a profit of £21.6m for the six months to December, after a loss of £4.6m for the same period last year.
It said the number of properties reserved so far into the second half was almost 22% higher than for the same period a year ago.
The average selling price was £181,200.
That was 3.1% higher than last year.
The growth came largely from the South East of England, where the majority of its 382 sites are based.
Barratt's chief executive, Mark Clare, said the business was doing well despite the weak economic climate: "Over the last six months, we have continued to improve the performance of the business, despite the wider economic uncertainty."
House builders are apprehensive about the ending of stamp duty exemption for first-time buyers of homes worth less than £250,000.
Such buyers will be obliged to pay stamp duty next month.
The trade hopes that the government's mortgage indemnity scheme, which guarantees to underwrite losses on newly built properties in England to help first-time buyers borrow up to 95% of the value of their home, will boost sales.
Many banks still demand deposits of 20% before granting a mortgage, something which is out of reach for many potential buyers.