BAA says Heathrow passenger numbers reach record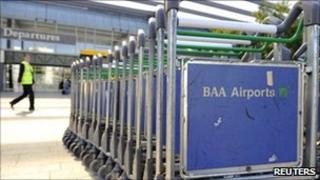 The number of passengers using BAA's Heathrow airport rose 5% to reach a record 69.4 million last year while losses for the company narrowed.
BAA made a loss of £255.8m in the year to 31 December, after losing £316.6m the year before.
Passengers at its Stansted airport, however, fell by 2.8% to 18 million.
BAA owns a number of airports in the UK, including Edinburgh and Glasgow, although it is selling Edinburgh after a Competition Commission ruling.
It has also been ordered to sell Stansted, a ruling it has contested but so far has been unable to overturn.
BAA said it was considering its next move.
The company, 49.9% of which is owned by the Spanish infrastructure group Ferrovial, said the total number of passengers at its airports rose 3.7% to 87.4 million.
"Growth [at Heathrow] was particularly strong, with countries such as the US, Germany, Switzerland, France and Brazil," BAA said.
"Of Heathrow's major markets, European traffic showed the most significant year-on-year growth, increasing 7.6% to 28.5 million passengers."
Heathrow operates at almost full capacity and BAA said the airport used a record 99.2% of its maximum permitted annual arrivals and departures last year.
BAA said this meant it was unable to keep up with demand for new routes to growing markets in places in Asia, such as Manila, Shenzhen and Jakarta.