Western Australia to launch own sovereign wealth fund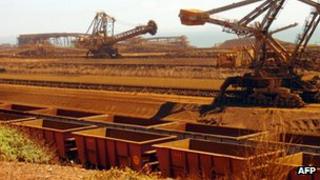 The government of Western Australia has said it is planning to launch its own sovereign wealth fund in a bid to invest earnings from its mining boom.
The state, which has large deposits of minerals such as iron ore, has seen mining revenues rise in recent years.
The surge has been driven by increased demand from China and other emerging economies in Asia.
State Premier Colin Barnett said it was necessary to ensure the resources-led boom led to long-term benefits.
"The Liberal-National government is committed to ensuring future generations of West Australians have a legacy from this historic period of development, built predominantly on the significant but finite resources available to us at present," the premier said.
Mr Barnett said the details of the fund will be announced during the state's budget, which is scheduled to be presented in May.
Australia's government has its own sovereign wealth fund called the Future Fund.
'Underlying issue'
Analysts said that while the move by the state government was sensible, it was likely to be controversial.
Last year, Western Australia increased the royalties tax on a number of the minerals mined in the state, including iron ore. The increase was opposed by Australia's Treasurer Wayne Swan.
According to some estimates, the rise is likely to cost the federal government as much as 2bn Australian dollars ($2.1bn; £1.4bn) in lost revenues.
"There is an underlying issue here," Michael McCarthy of CMC Markets told the BBC. "Most of this money is coming from an increase in royalties to miners."
Analysts said that as well as the government losing out on revenue, there was also the issue of political friction.
While the Labor party runs the federal government, Western Australia is governed by an alliance between the Liberal Party and the National Party.
"It is like rubbing salt into the wounds of the opposition."