Stamp price rise proposals challenged by MPs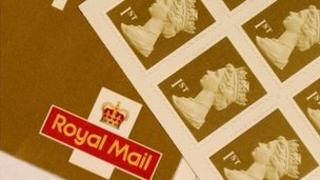 MPs have challenged a regulator about plans to remove price caps on first-class stamps and raise the price limit on second class to as much as 55 pence.
Ofcom, which has taken over regulation from Postcomm, made the proposals owing to "huge changes" in the industry.
Officials from the regulator told the Business Committee that the average UK family now spent less than 50p a week on mail services.
But MPs quizzed them about the effect on the vulnerable and small businesses.
Price rise
Ofcom said its proposals, announced in October, were designed to make sure UK consumers continued to benefit from an affordable, universally-priced postal service six days a week, at a time when postal use was declining as many people had turned to new technology.
The cost of a first-class stamp is currently 46p. Under the plans, Royal Mail would be allowed to set this price at a level it considered to be appropriate and competitive.
The only price capped would be the charge for second class letters, which is currently 36p.
Ofcom has proposed that this be raised to between 45p and 55p, with Royal Mail suggesting the price should be at the upper end of this scale.
Stuart McIntosh, group director of competition at Ofcom, said that the 45p to 55p bracket was suggested after making comparisons with prices in other countries.
He said that this would still be affordable for vulnerable customers.
Adam Scorer of watchdog Consumer Focus later told the committee that vulnerable customers included those in rural areas, those on low incomes with low internet use, and businesses that were too small to negotiate bulk postal prices.
They should be at the forefront of Ofcom's thoughts when making decisions on prices, he said, although some changes and price increases were inevitable.
"This must be done in a measured way," Robert Hammond of Consumer Focus told the committee.
The committee is conducting an inquiry into stamp price regulation and changes to the post office network. MPs will question Royal Mail on 28 February.
Royal Mail made a £120m loss from its letters business in 2010.