Manchester United boosts revenues and cuts its debt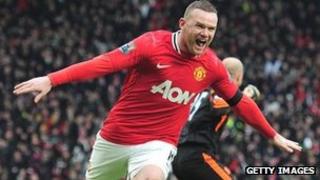 Manchester United says its revenues for the last six months of 2011 increased to £175m, as it released its latest financial figures.
It is an increase of £18.5m on the Old Trafford club's revenues for the same period last year.
The Premier League club said debt was £439m at the end of 2011, less than the £508m reported 12 months previously.
Last year, United said it would partially float on the Singapore Stock Exchange, but that has yet to happen.
The team, currently second to rivals Manchester City in the Premier League, are also competing in the Europa League.
Match day revenues (up from £52.4m to £54.5m), media revenue (up from £53.7m to £60.9m) and commercial revenue (up from £50.4m to £58.6m) were all ahead.
United were taken over by the Glazer family in 2005 and have had a rocky relationship with many of the fans since then over the level of debt at the club.
A buyback of bonds, sold as part of a £500m refinancing operation two years ago, helped bring down the latest debt figures.
However, total operating costs - up from £96.9m to £110.8m - and net player capital expenditure - up from £11.7m to £47.9m - both rose.
The latter's rise was due to a summer outlay on players David de Gea, Ashley Young and Phil Jones, as manager Sir Alex Ferguson set about freshening up his team.
Other figures show a bank balance of £50.9m and a £10.4m rise in general capital expenditure, mainly due to upgrading hospitality areas.
Without the lucrative revenue streams garnered from competing in the Champions League, the club is expected to see a decline in income over the next half-year.