Wal-Mart fourth-quarter profits rise 3.4%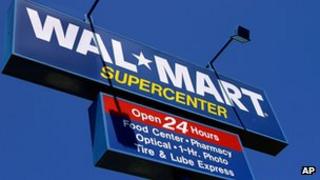 The world's biggest retailer, Wal-Mart, has reported rising quarterly profits after a solid holiday season.
For the three months to 31 January, Wal-Mart turned in a net income of $5.2bn (£3.3bn), up 3.4% compared with the same period in the previous year.
But the results did not match market expectations and its shares closed down more than 4% in New York.
Sales at its British arm, Asda, were up just 1%, a slowdown from the third quarter, when sales rose 1.3%.
Asda has a slightly different quarter from its parent company. It reports on the three months to 7 January.
Premium products
Wal-Mart has been lowering prices to tempt shoppers.
In its quarterly report, Wal-Mart's chief executive, Mike Duke, said the strategy is working.
"Our price leadership is making a difference across the United States, as many families are settling into a new normal," he said.
"Core customers remain cautious about their finances, and they rely on Wal-Mart's every day low price promise to help them manage through today's economic challenges."
But that growth has come at a cost. The company's profit margin fell in the fourth quarter because of discounting.
While overall sales growth at Asda was slow, the company's online business is booming. Sales were up 20% in the fourth quarter.
The company also said its new premium products, including the Leiths range of food, is selling well.
Wal-Mart has been expanding overseas with last year's purchase of South Africa's Massmart.
It is also planning to raise its stake in the Chinese internet retailer Yihaodian to 51%.