Coventry jobs club struggles to keep up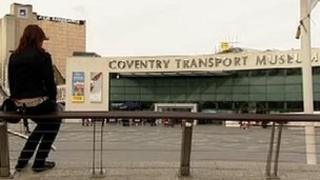 If you are out of work in Coventry, a morning out at the Transport Museum may seem an odd way of trying to land a new job.
But every Thursday, a corner of this popular venue is devoted to helping men and women back into work.
The city council's jobs club usually deals with more than 100 people a week.
The vacancies are neatly printed out and posted on the walls, and there is a team of dedicated helpers on hand to help people with CVs and job applications.
Trouble is, there just are not enough jobs to meet the demand - or at least the skill sets of the people hunting for them.
Tough competition
Rae Rafferty scans the jobs section of the local newspaper.
Apart from seasonal work, he has been unemployed for two years.
He wants a warehouse job and it is not easy.
His biggest problem is that he does not have his own transport.
"What warehouse jobs there are, they're usually out on the edge of the city and they start at 6am," he says.
"I rely on public transport and I just can't get there in time. That narrows the options for me even more. I'm competing against so many people, it's just getting harder and harder. "
The jobs club does manage to place about 50 people a week into vacancies.
But the need is massive.
"If we had twice as many vacancies, we could fill them," says Carl Pearson, the man in overall charge of the jobs club as well as regeneration at Coventry City Council.
Seen it before
You just have to take a trip around the Transport Museum to see the ups and downs of Coventry's fortunes.
Its history is steeped in carmaking.
There is plenty of space devoted to the devastating job losses here as the big car plants were closed.
The city worked hard to find jobs to replace them, especially in the public sector.
But now the jobs that are being hit are the ones in the public sector.
The BBC has learnt that more than 1,300 public sector jobs have gone in the city in just 15 months, and many more are expected to be lost in the months and years ahead.
"We've seen what happened when Coventry almost entered a depression when mass manufacturing collapsed in the early '80s," says Mr Pearson.
"We don't want that to happen again."
Early days
Coventry is vulnerable.
The impact of the all these job losses in the public sector is not clear. Nobody knows exactly where all the people who have been laid off have ended up.
But there has not been a dramatic increase in local unemployment, according to Coventry Business School's Professor David Bailey.
"We don't know whether they've gone part-time or left the jobs market entirely, but it's still very early days," he says.
"Although the Coventry economy has a degree of resilience, with some bright spots in manufacturing and business services, the question is: Will enough new jobs be created overall? It's a finely balanced situation."
Made in Coventry
They have had to cope with job losses at the Transport Museum itself.
Julia Gandy worked for nine years as an education officer, before she took voluntary redundancy.
Leaving the public sector was very painful, she says.
"It was really horrible, leaving a job that I absolutely loved," she says.
"You just take it so personally."
Like many others, Ms Gandy did not have any luck at the job centre, so she decided to launch her own business and open the city's newest shop, Made in Coventry.
The aim is to showcase arts and crafts that are made in the city.
"It's scary, but I'm loving it," she says. "It's great to be in charge of myself.
"I could see that my confidence was being knocked and that if I didn't do something, I would get to the point that I was too scared to try."
Her message to other public sector workers is to harness the skills they have got.
People, she says, have to start looking at other options.