Property sales see new year drop, says HMRC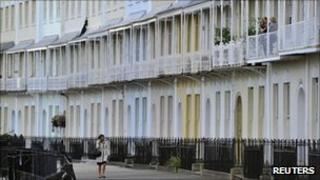 Home sales recorded their typical new year dip, but transactions in the first month of the year were higher than any January since 2008, figures show.
There were 64,000 UK property sales during the month, down from 86,000 in December, according to HM Revenue and Customs (HMRC).
This total was higher than the 52,000 sales seen in January 2011.
The housing market tends to go through a lull at the start of the year before activity picks up in the spring.
There have been some suggestions from those in the industry that the imminent end to the stamp duty concession has pushed up interest among first-time buyers at the start of the year.
The 1% stamp duty rate for first-time buyers, on properties worth between £125,000 and £250,000, is being reintroduced on 24 March.
On Monday, the Council of Mortgage Lenders said that gross mortgage lending in January was up 10% on the same month a year earlier, to £10.5bn.
No boom
Even if first-time buyer numbers had picked up slightly, many were still finding it hard to get a mortgage, or were holding off making such a financial commitment given the uncertain state of the economy.
Sales remained well below the 115,000 transactions recorded in January 2007, at the height of the property boom.
There were only 869,000 homes sold in the UK last year.
This was similar to 2009 and 2010, but half the levels seen in the run up to the banking crisis.