Kingfisher Airlines pledges to 'restore flights soon'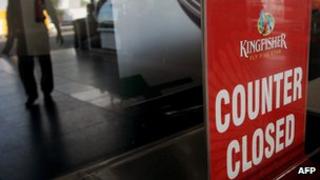 India's loss-making Kingfisher Airlines has told the aviation authorities that it hopes to restore flight schedules in the next five to seven days.
On Tuesday, the company's top officials met aviation regulators to discuss plans to end the large-scale flight disruptions over the past few days.
At least 30 more flights were cancelled on Tuesday and Kingfisher's shares fell by 20%.
The firm recently had its bank account frozen for non-payment of taxes.
It said it was now talking to banks to secure funding so it can continue operating.
Kingfisher executives were called by the Directorate General of Civil Aviation (DGCA) to explain why at least 130 flights were cancelled in recent days.
The airline has been given until Wednesday to come up with a revised, clear schedule for its operations, director general of civil aviation EK Bharat Bhushan told reporters after the meeting.
The airline, which flies on international as well as domestic routes, is currently operating 28 of its 64 planes, he said.
It flies to 46 destinations in India and eight overseas, including London, Hong Kong, Singapore and Dubai.
'Not an option'
Earlier, the airline's billionaire owner Vijay Mallya said he was determined to keep the airline flying.
"Closing down is not an option. It will not happen," Mr Mallya said. "Government does not want it to happen. It is not in the national interest."
Meanwhile, India's government has ruled out any bailout for the carrier.
"As far as private airlines are concerned, they are talking to banks, and banks will lend them money only if they are confident that their business plans will succeed," said Ajit Singh, India's civil aviation minister.
The flight disruptions are the latest problem to hit Kingfisher Airlines.
Last week it reported that its losses widened 75% in the October to December quarter, raising fresh concerns about its future.
It made a loss of 4.44bn rupees ($90m; £57m) during the period, compared with 2.54bn rupees a year earlier.