ECB halts purchases of eurozone bonds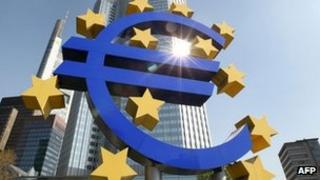 The European Central Bank (ECB) has said it made no purchases of eurozone government bonds last week.
The emergency bond-buying programme was not used for the first time since August.
The central bank has been buying the bonds of cash-strapped countries like Italy and Spain in a bid to keep their cost of borrowing down.
Many feared that a surge in interest rates at bond auctions would mean further expensive bailouts.
So far, Greece, the Irish Republic and Portugal have been bailed out.
Lower rates
Borrowing rates on Spanish and Italian debt started rising last year - some close to the 7% level that prompted the initial bailouts of other eurozone nations.
Over the past few months, the ECB has been buying eurozone debt to try and bring down the cost of borrowing to sustainable levels.
That seems to have been successful, as Spain and Italy have been able to borrow at lower rates.
Two weeks ago, the ECB bought only 59m euros ($77.9m, £49m) of bonds.
Fears that banks would stop lending to each other and start another credit crunch prompted the ECB to make its first-ever offer of unlimited three-year loans in December.
Over 500 European banks took 489bn euros in its first week - far higher than anticipated.
That programme of emergency loans is still ongoing.