Biosensors calculate the road to sporting victory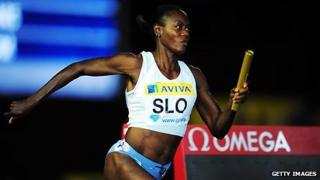 As she takes off her shorts, multiple Olympic medallist and Slovenian athletic sprinter Merlene Ottey carefully checks her leg.
The object of her close attention is a tiny patch stuck to the skin.
Inside it, there is a miniature biosensor that monitors her muscle fatigue levels during training and competitions.
The data is then transmitted wirelessly and in real time to a team of scientists and coaches, who analyse it and come up with ideas to help her prevent injury and improve performance.
To help get rid of those extra seconds, vital in athletics. To win.
Ms Ottey trains hard, and regularly - but as the 2012 London Olympics come into focus, the time athletes have left for training is inevitably slipping away.
Muscle issues
The 52-year-old has been on the track for several decades, and although she hopes to qualify to take part and do her best in the upcoming Olympics, her body is understandably different from what it used to be.
"I cannot train like 15 years ago - I have been training for more than 30 years, and my muscles have gradually become less balanced," says the athlete, who has previously represented Jamaica at the Olympic Games.
That is why monitoring her body's response during extreme effort is important - and this is where technology comes into play.
Sports and technology have long been merging to help athletes, with engineers developing the most aerodynamic bobsleigh shapes, or using the best materials to create the fastest bicycle.
But recently, one more factor has emerged - bioscience.
It allows researchers to get really up close and personal with an athlete's body reactions, providing a much better understanding of physiology and biomechanics.
And although sensors measuring, say, heart rate, have existed for some time, and are even available commercially from sports companies such as Nike, the most recent developments are really cutting edge, says Dr Leslie Saxon from the University of Southern California's Center for Body Computing.
"Biosensors are a new frontier in sports - now we can get the data from performing athletes wirelessly, continuously and in real time," she says.
"We can record things like acceleration and position, heart rate, respiration and fatigue, combine the measurements, and mash them up using sophisticated statistics and analytics, to get a complete picture of an athlete's fitness, and more insight into what his or her body metrics look like during a performance.
"This provides a complete view of what factors influence the performance - and that has to do with what you'd eaten and how much you'd slept the night before."
The data is then used to develop a more personalised approach to training, enhancing performance, as well as to predict what might put an athlete at risk, facilitating the very early diagnosis of, for instance, cardiac arrest.
And biosensors also help prevent injury and extend an athlete's career, adds Dr Saxon.
Tech and talent?
One of the companies developing biosensors in Europe is a Slovenian firm TMG.
Its head of R&D Srdjan Djordjevic says that although talent is still vital, it is simply not sufficient anymore.
"Technology, such as better diagnostic tools, is important - not just to improve performance directly, but also to find less destructive ways for adaptation, which means less injuries and other problems such as overtraining," he says.
In the past few years, TMG's sensors in the areas of muscle diagnostics, training optimisation and injury prevention have helped athletes of different levels - from local clubs to national teams and Olympic Committees - in football, athletics, cycling, basketball, alpine and cross country skiing.
Merlene Ottey, being a Slovenian athlete, uses their sensors regularly, but TMG also has international partners - for example, UK Sport.
This public body that directs the development of sport in the United Kingdom has teamed up with a number of organisations on a project called ESPRIT - the Elite Sport Performance Research in Training with Pervasive Sensing.
"Sensor technologies are becoming smaller and more sophisticated, allowing us to better understand how an athlete is responding to training over time and thus giving us a better insight into what it is important for them to maximise their development," says Scott Drawer from UK Sport.
"Sensors can measure forces, speeds and angles, and now we are beginning to understand how the physiology also impacts on some of these outcome measures.
"The real edge will be how all the data is pulled together in an integrated way to understand the individual.
"Projects with rowing, skeleton, hockey, cycling, rugby, wheelchair racing, shooting have had an impact."
'Continuous readout'
Queen Mary, University of London, has decided to take part in the ESPRIT project.
Professor Pankaj Vadgama, one of the leading researchers, develops tiny needle-based biosensors for detection and monitoring of oxygen, glucose and lactate - to make sure that the levels, and therefore the athletes, are all right.
Just recently, in December 2011, his research reached an important milestone - the group started first-ever human trials.
"An athlete under duress is more like a patient undergoing shock state, therefore the body is in extreme conditions," he says.
"We've learned over the last twenty years that physiological parameters such as oxygen in the breath and heart rate, give very valuable feedback on the performance status of an athlete.
"But what we haven't been able to get until now is continuous readout information - that's the novelty value and the unusualness of want we do."
There have been a number of serious challenges in developing the biosensors, explains Prof Vadgama.
For instance, the team has found that glucose and lactic acid can best be measured invasively - by sticking a needle with special enzymes on its tip under the skin.
These needles have to be as non-disturbing as possible, explains the researcher, as running with a needle stuck in your body could be understandably unpleasant, to say the least.
So the scientists made them very tiny, only a couple of millimetres long.
And to ensure that the body does not reject the needle as it would a splinter, the team uses special biocompatible and communicative materials.
Fan experience
But besides helping athletes, the data from biosensors can also be used for something completely different.
For instance, says Dr Saxon, her department has already started experimenting with getting the sensors' readings… to fans.
"You can use that same data that you're collecting to measure athletic performance, health, wellness and prevention, to create an immersive fans' experience," she says.
"What if I record my own heart rate while watching my favourite football player play, looked at my response and compare it to his response on the field?
"You can do a lot of fun things with this data."
And it is happening elsewhere, too - Formula 1 fans, for instance, can watch video clips on YouTube of F1 drivers during a race, and see their heart rate readings.
"As this technology matures, there will be more and more biosensors out there," says Dr Saxon.
"It is truly the next frontier in sports and technology."