Fewer facing late tax return penalty, says HMRC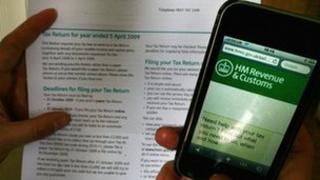 Some 850,000 people will receive penalty notices for failing to submit their tax returns on time - 550,000 fewer than a year ago.
Letters outlining the £100 penalties are being sent out over the next two weeks by HM Revenue and Customs (HMRC).
Appeals against the fines need to be made in writing by 31 March.
Reasonable excuses for failing to meet the deadline for submitting the self-assessment tax form include family illness or bereavement.
"We want the returns, not the penalties. So anyone who still has not sent theirs should do so as soon as possible," said Stephen Banyard of HMRC.
"People who receive a penalty notice should act now to avoid further penalties. They should send in their return, appeal if they think they have a reasonable excuse, or contact us if they think they should not have been in self assessment."
Penalties
The official, and normal, deadline for filing tax returns online is 31 January. However, no penalties are being issued this year to those who completed the form online on 1 or 2 February.
This was because the public sector union, the PCS, held industrial action at call centres and inquiry offices to protest against the appointment of private companies to run call-handling trials in two contact centres.
This year, anyone who failed to meet the revised deadline faces a new fines structure.
In previous years, a fine for late filing, or for failing to pay any tax due, could not in fact be applied if the size of the fine was larger than the amount of tax owed.
Now an automatic £100 fine is levied, even if people have no tax to pay, unless they have a reasonable excuse.
After three months, additional fines of £10 a day start to accrue and could eventually amount to a maximum of £1,600.