Alibaba and Yahoo deal 'delayed by price disagreement'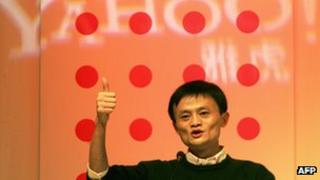 Alibaba Group, one of China's biggest internet companies, is no stranger to deals. Some 48,000 of those take place every minute on its websites Taobao.com and Tmall.com.
However, the group itself has hit a dead end over what many analysts are calling its most important negotiation.
It wants to buy back the 43% of Alibaba, or at least a part of this stake, that US group Yahoo bought in 2005 for $1bn (£630m).
"It is absolutely critical because without buying back the stake it is highly likely that Jack Ma, Alibaba's founder, will continue to delay and stall the listing of Taobao Mall and Taobao.com or other parts of the Alibaba group," Michael Clendenin of RedTech Advisors in Shanghai tells the BBC.
The two parties have been meeting, and there is talk of a complex asset swap. The suspension of trading in Alibaba's shares at the Hong Kong Stock Exchange since early this month has only added to the excitement.
However, there are reports that talks between the two have hit a stalemate in recent days over the valuation of various Alibaba assets.
Stumbling block?
The Alibaba Group has various businesses including international trading website Alibaba.com, e-commerce website Taobao, and an online payment service Alipay.
However, out of all its units, Alibaba.com is the only entity which is publicly listed. Analysts say this makes the valuation process a difficult one.
"There is no clear market value that has been put on the non-listed parts of the Alibaba Group," says Mark Natkin, managing director of Marbridge Consulting in Beijing.
The biggest sticking point according to analysts is Alibaba's Taobao unit.
Taobao, which operates China's biggest online shopping site, was restructured into three independent companies last year.
Though the company has denied that it is planning to list Taobao on the stock exchange, many analysts are still speculating that it may happen at some time in the future.
Given the domination that it enjoys in the market, its businesses are expected to grow even further. China with more than 500 million users is the world's largest internet market and is still expanding, which provides a tremendous opportunity for growth.
Analysts say putting a fair value on Taobao's future success is key to the negotiations between Yahoo and Alibaba.
"You need to take into account what the future potential of the non-listed components is," Mr Natkin adds. "We will see much of their value being recognised once they are listed."
'Potential gains'
This untapped future potential and how to share it, is what is causing a delay to the deal according to analysts.
They say that even though Yahoo is poised to make a substantial gain on its $1bn investment, if the deal goes go through, it is wary of missing out on a much bigger profit in the long run.
"The risk is that Yahoo may seem to have done well in the short term, but the big question is, how will the deal look when Taobao lists in the future," says Duncan Clark, chairman of BDA, an investment consultancy firm based in Beijing.
Mr Clark explains that given the potential for growth in China, Taobao's listing is expected to be a "very big one".
He says Yahoo may be trying to negotiate a deal where it gets a guaranteed future share holding if Taobao goes public within a certain time of Yahoo selling its stake back to Alibaba.
At the same time, analysts say that Alibaba is also trying to ensure that it makes the most of any future share sales.
"Alibaba and Yahoo will like to keep as much potential gains for themselves as possible," says Marbridge Consulting's Mr Natkin.
Need for speed
While both parties are looking to get the best deal for themselves, analysts warn that a long delay in finalising an agreement will hurt them equally.
"It is a lot of distraction for both the companies," says Mr Clark of BDA.
He explains that Yahoo, which has been struggling in recent times and is looking to make a fresh start under the new chief executive, can use the cash generated to streamline its core operations.
"Quite a few Yahoo shareholders are attracted by the fact that there is going to be a deal for the Asian assets," he adds.
He explains that a failure to reach an agreement will not go down well with the shareholders, who were still feeling the pinch of Yahoo having rejected a takeover bid worth more than $40bn from Microsoft some years ago.
As for Alibaba, analysts say a delay on its part may have a negative impact on Taobao's future listing.
"When you take a company out on the road, you need to have a pretty fast top line growth. The longer they wait to do this deal, the slower the growth will be," explains Mr Clendenin of RedTech Advisors.
"Any delay beyond a year will start to hurt."