Carlsberg to buy up Russian unit Baltika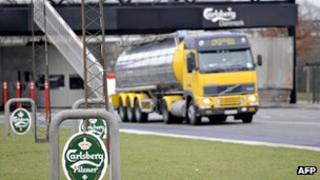 Danish brewer Carlsberg has said it plans to buy up the remaining 15% of its Russian division Baltika this year.
In its full year results, the firm said it made a consolidated net profit of 5.69bn Danish Kroner ($1.01bn, £638m) in the year to 31 December 2011, down from 5.96bn Danish Kroner in 2010.
The firm lost market share in Russia - where it is the biggest beer maker - due to tough competition.
It said it expected the European market to remain flat in 2012.
"While 2011 was a challenging year, with head-winds from rising input costs and a challenging Russian market, our Northern & Western European and Asian regions continued to perform well," said chief executive Jorgen Buhl Rasmussen.
Russian purchase
The firm said it hoped to have bought out its Russian shareholders by the spring of 2012.
Carlsberg got more than 29% of its revenue from its Eastern European and Russian businesses in 2011, and said buying the remaining shares in its Russian unit would immediately boost profits.
"The Carlsberg Group will take the necessary steps to arrange for a delisting of Baltika as soon as possible," the firm said in its statement.
"We currently expect this to happen not later than May 2012."