Interest-only loans get harder to take out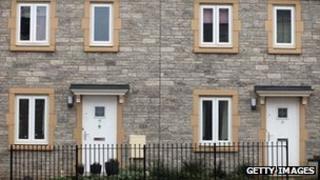 Mortgage lenders are making it harder for homeowners to take out an interest-only mortgage.
One High Street bank is insisting on a deposit of at least 50% to get such a loan.
The changes also limit the options for existing customers who want to move home but keep their old mortgage.
They will have to meet new lending criteria, or switch to a capital repayment mortgage, which may push up their monthly outgoings.
Stricter criteria are being applied by lenders on what is considered to be an acceptable repayment strategy.
This week, Lloyds Banking Group specified that cash savings would no longer be acceptable as a mortgage repayment vehicle. It also wants a 20% margin of safety in the valuation of other assets such as shares, Isas and other property.
The decision applies to all of the group's main brands, which include Lloyds TSB, Halifax and Cheltenham & Gloucester. The minimum deposit or equity required for interest-only loans is unchanged at 25%.
But Santander, one of the UK's biggest mortgage lenders, cut the maximum it would allow customers to borrow from 75% to 50% of a property's value.
Mortgage prisoners
Existing borrowers may find that they become trapped in their current homes if they no longer meet the criteria for interest-only lending.
"There is no question that these measures are counterproductive," says Ray Boulger, senior technician at John Charcol mortgage brokers.
"Quite a lot of people with interest-only mortgages will now find that it actually becomes impossible to move. That means less activity in the housing market and that's bad for the UK economy. It affects everyone in the chain."
Typical applicants for interest-only mortgages include self-employed workers, couples nearing retirement and households temporarily on one income while raising a family.
Interest-only mortgages can also be a cost-effective way for high earners with variable income levels to pay low monthly interest payments, and use more prosperous months or bonus payments to pay off the capital in large chunks.
There has been a dramatic fall in the number of interest-only mortgages approved in recent years. The number of first-time buyers purchasing interest-only mortgages has fallen from 30% in 2006 to 3% in 2011.
'Race to the bottom'
According to mortgage brokers, lenders working in anticipation of tighter regulations are reducing options for credible borrowers.
"This is clearly a race to the bottom as far as being consumer-friendly is concerned," Mr Boulger says.
"The draft regulations put so much responsibility on lenders to make sure any investment plan will produce sufficient funds to pay off the mortgage that lenders are not prepared to take the risk of being sued by borrowers for any shortfall."
Bernard Clarke, spokesman for the Council of Mortgage Lenders, believes the trend is set to continue.
"What is happening is that we are working in a much more risk-averse environment," he says.
"That does make it more difficult for consumers to get as much choice about the types of products that they've had in the past, but lenders can only operate in the regulatory environment which they anticipate that they're going to get from the Financial Services Authority."
Mortgage approvals
Despite the crackdown in conditions, there were 58,610 home loans approved last month, up 29% from January 2011. According to the latest Mortgage Monitor from e.surv chartered surveyors, this is the highest level since December 2009.
Sarah Pennells, editor of Savvywoman.co.uk, says in the current market borrowers need to think more carefully about their mortgage applications.
"Most people are so busy saving for that deposit that they put on hold paying off existing debts," she says.
"Increasingly, lenders are looking at existing debts when they determine how affordable a new loan will be. Make sure you pay off all existing bills including credit cards, as well as tackling missed payments, a good six months before you apply for a mortgage."
The mortgage market is being reviewed by the financial regulator to ensure that borrowers do not take on more debt than they are able to repay.
The draft Mortgage Market Review, published in December, indicated that interest-only mortgages can be a valid option for consumers with a "realistic, credible" repayment strategy, but left the onus on lenders to establish what those strategies might be.
The regulator is in consultation until 31 March 2012.