Baidu profit almost doubles as online advertising grows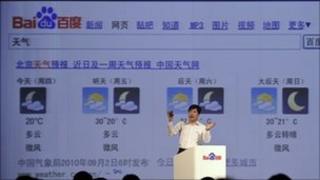 Baidu, China's largest search engine, has reported a 77% surge in profits between October and December as its advertising revenue continues to grow.
The company said it made a profit of 2bn yuan ($318m; £200m) during the final three months of 2011, up from 1.2bn yuan a year earlier.
For the full year, Baidu's profit surged 88% to 6.6bn yuan.
The firm's advertising revenue grew by 83% last year as it continued to dominate the online search market.
"I'm pleased to report that we closed the year with solid financial results as strong execution allowed us to benefit from exceptional market opportunities," said Robin Li, Baidu's chief executive.
Future growth
China, the world's biggest internet market, has more than 500 million internet users and the number is growing fast.
Baidu has been the dominant player in the online search market in the country, accounting for almost 80% of the market.
Such dominance has helped the company not only retain its advertising customers, but also attract new ones.
The firm said it had about 488,000 active online marketing customers in 2011, an 18% rise from a year earlier.
Given the robust growth, Baidu said it expects revenues of between $666m to $688m during the current quarter, an increase of more than 70% from the same period last year.
However, analysts said they expect the revenues to increase more than forecast.
"The guidance is inline, but people think that considering the [economic] environment and the early Chinese new year, maybe the company is giving conservative guidance," said Qi Guo at ThinkEquity.