Nestle cautious on sales in 2012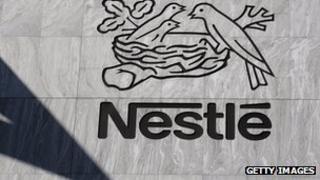 Global food giant Nestle has reported 2011 profits of 9.5bn Swiss francs (£6.5bn; $10.2bn), up 8.1% on 2010.
But the Swiss firm's chief executive, Paul Bulcke, described 2011 as "challenging" and said he did not expect 2012 to be any easier.
Nestle, which owns a wide range of brands including Nescafe, Smarties and Milky Bar, saw its business in emerging markets grow 13.3%.
Developed markets, such as Europe, grew only 4.3%.
The company's overall sales fell to 83.6bn Swiss francs, from 110bn Swiss francs in 2010. However, the firm's 2010 sales had been boosted by Nestle's sale of its 53% stake in eyecare firm Alcon to Novartis for 25bn Swiss francs.
The Swiss franc soared in 2011, raising the cost of Nestle's exports to clients in other countries.
Nestle said the effects of foreign exchange had a negative impact of 13.4%.
Last month, Nestle announced that it was moving its UK headquarters from south London to west Sussex after more than 40 years.
Its 840 office-based employees will move from Croydon to Gatwick by the end of the year.