OFT warns banks to change or face competition probe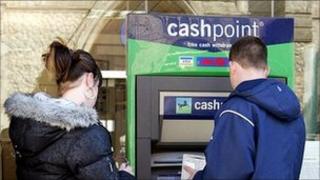 The Office of Fair Trading (OFT) has told banks they must do better for personal account customers or face an enforced shake-up.
In a hard-hitting speech, the head of the OFT said that banks had been dragging their feet over improving their service on matters such as making it easier to switch bank accounts.
John Fingleton said there had been a number of investigations into personal banking services in the UK.
But he added this had changed little.
Mr Fingleton said that he needed to see evidence that the banking sector was delivering customer-focused competition: "For too long, competition in the banking system has not functioned well."
He said that since 2000, there had been interventions by competition authorties, consumer bodies and the Government, but these had not solved the problem.
"Even where these have had positive effects, progress has been too slow and incremental, and fundamental concerns remain about the competitive structure and performance of these markets," he said.
He said that if this was not forthcoming, that would suggest the structure of the UK banking sector, with its small number of giant providers, was at fault and that a referral to the Competition Commission would be one way of investigating this.
Lack of competition
Mr Fingleton's speech points out that the Cruikshank report into competition in UK banking - the first of many - was conducted as long ago as 2000.
All inquiries concluded that there was a lack of competition in the provision of personal banking services, which made the charging structure difficult for customers to understand and switching accounts an uncertain process.
The most recent report, from the Independent Commission on Banking (ICB), recommended last year that people and businesses wanting to change banks should be able to switch accounts within seven days and provide a safety net to catch any stray direct debits or standing orders for a year after any account was switched.
Mr Fingleton said that if no real change was seen from the banks, a "more radical approach" would have to be considered.
The ICB report concluded that if the market had not changed by 2015, a Competition Commission referral should be actively considered, something Mr Fingleton endorsed in this speech.
The British Bankers' Association said banks were in the process of reform but that most people were happy with the service they got: "The banking industry has already introduced important changes. This has been acknowledged by Mr Fingleton in his speech today.
"Independent research shows that the vast majority of customers are satisfied with the service their bank provides and there is no reason for them to switch accounts."