Carmaker Renault sees sales rise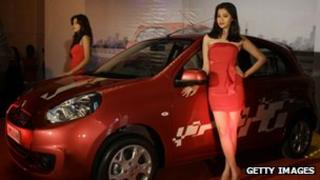 France's second largest car maker Renault has reported a 9% increase in annual sales, helped by rising trade outside Europe.
The firm sold more than 2.72 million vehicles in 2011, bringing in revenues of 42.63bn euros ($55.4bn; £35.3bn).
Renault saw particularly strong sales growth in Russia and Brazil.
Net profit fell 39% to 2.1bn euros, although the previous year's figure had been boosted by a windfall when the firm sold its shares in AB Volvo.
"Renault coped with the different crises faced throughout the year, exceeding the free cash flow objective for 2011," said Renault chairman and chief executive Carlos Ghosn.
"In 2012 we expect international sales to be well in excess of 43% of the total, while maintaining the Renault brand leadership in France, and number two position in Europe."
Renault said it expected the the global automotive market to grow by 4% this year, although this growth would come from outside Europe.
It predicted the European market would contract by 3-4%, while in France it would shrink by 7-8%.
On Wednesday, Renault's domestic rival Peugeot Citroen said that it was planning to sell its stake in its Gefco trucking division as it forecast the European car market would shrink by 5%, with a 10% contraction in France.
Peugeot has invested heavily in sales in the Chinese market in recent years and saw its sales in China grow by 7.7% to 404,400 vehicles.