Societe Generale profits hit by Greek writedowns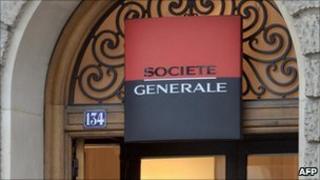 Societe Generale has reported a sharp drop in profits after writing off 662m euros (£516m; $808m) in Greek debt.
France's second largest bank reported net profits of 100m euros for the three months to the end of December, down 88.6% on a year earlier.
The bank's investment banking division, formerly one of its strongest, reported a loss of 482m euros in the quarter.
Chief executive Frederic Oudea described 2011 as "an extremely turbulent year".
For the whole of 2011, Societe Generale reported a profit of 2.3bn euros, down 39% on 2010.
Societe Generale has been increasing the amount of money that it holds in reserve to meet bad debts, known as its Tier 1 capital ratio.
The bank said its core Tier 1 ratio stood at 9.9% on the 31 December 2011. European regulators have set banks a minimum ratio of 9% to be hit by the end of June 2012.
On Wednesday, BNP Paribas, France's largest listed bank, saw its quarterly profits fall 50% due to its exposure to Greek government debt.
Both Societe Generale and BNP Paribas have written down the value of their Greek debt by 75%.
In an interview with the Reuters news agency, Mr Oudea said the bank would continue to try to cut debts.
"We will no doubt have more deleveraging costs in 2012. We need to be prudent because I think the environment is going to stay volatile in 2012," said Mr Oudea.