BAE Systems's annual sales fall by 14%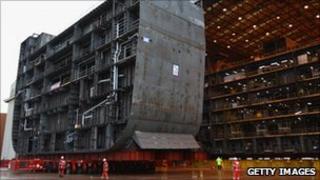 UK defence group BAE Systems has reported a drop in annual sales after defence orders fell back and has warned sales will not grow this year.
Revenues fell 14% to £19.15bn in 2011 while pre-tax profits were £1.46bn, up slightly on 2010's £1.4bn.
The drop in revenue was mainly due to a cut in orders from the US army after it pulled out of Iraq and the delay of an order for jets from Saudi Arabia.
In September last year, BAE said it would cut 3,000 jobs.
BAE employs 40,000 people in the UK, and 100,000 worldwide, and the biggest job cuts will be at sites in Lancashire and Yorkshire.
The Brough factory, in East Yorkshire, will lose 900 jobs from its 1,300-strong workforce, while at Samlesbury in Lancashire, 565 jobs will go from the 3,970-strong workforce.
At Warton, Lancashire, 843 posts will be lost among 6,537 staff.
The company recently failed to become the key bidder for a £6bn contract to supply India's government with fighter planes,
BAE, which is involved in the production of F-35 fighter jets, Eurofighter jets and Astute class submarines, raised its dividend payout to shareholders by 7.4% to 18.8 pence but said the outlook was uncertain.
Chief executive Ian King said: "BAE Systems is operating in a difficult business environment as defence spending reduces in its largest markets, the US and UK.
"Whilst little sales growth can be expected for the group in 2012 in the current market conditions, modest growth in underlying earnings per share is anticipated."
He added though that this depended on how it progressed in its negotiations with Saudi Arabia over contract changes on the supply of the rest of the 72 Typhoon jets ordered by the Kingdom - the Salam programme.
BAE gets 47% of its revenues from the US and 29% from the UK.
US defence spending has been capped and the UK intends to cut defence spending by 8% over the next four years.