Kingfisher Airlines losses worsen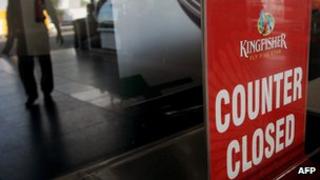 Losses at India's Kingfisher Airlines widened 75% in the October to December quarter, raising fresh concerns about the future of the troubled carrier.
The airline made a loss of 4.44bn rupees ($90m; £57m) during the period, compared with 2.54bn rupees a year earlier.
It said high fuel costs and a weak rupee had hurt its earnings.
The carrier has been facing cash flow problems that have led to flights being cancelled and staff leaving the firm.
"The company has incurred substantial losses and its net worth has been eroded," Kingfisher said in a statement.
"Steep depreciation of the Indian rupee coupled with consistently high crude oil prices has led to a challenging quarter for the Indian aviation industry," it added.
The carrier said its fuel costs had risen by 37% from a year earlier to 1.9bn rupees during the period.
Its revenue also fell, down by 15% to 13.42bn rupees.
Growing concerns
The latest numbers have fanned fears about the future of the airline, which is finding it increasingly difficult to raise fresh funds.
The State Bank of India, Kingfisher's top lender, has already said it is not willing to add further to the loans it has previously extended to the airline.
Last month, Kingfisher said it was in talks with a Hong Kong-based company, SC Lowy Financial, for a possible investment to ease its cash flow situation.
Kingfisher has already shut down its budget carrier in a bid to streamline its operations.
The company has never made a profit since it was launched in 2005.