Qantas profit dips 83% amid strikes and high fuel costs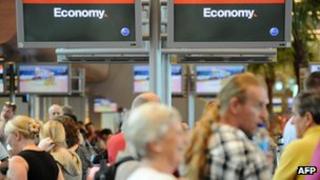 Qantas has said it will close some international routes and cut almost 500 jobs after its profits were hit by an industrial dispute and rising fuel costs.
The carrier made a net profit of 42m Australian dollars ($45m; £29m) for the six months to the end of December.
That was down from A$241m during the same period last year.
The firm said strikes last year cost it A$194m, while its fuel costs surged 26% to A$2.2bn during the period.
Qantas chief executive Alan Joyce said the result was a good performance given the challenging circumstances the firm faced during the period.
"While the impact of the dispute was severe, our portfolio of businesses once again demonstrated its resilience in difficult conditions," Mr Joyce said.
International issues
While Qantas has been doing well on the domestic routes, its international operations continue to be a problem amid slowing demand and increased competition.
Mr Joyce said that "even the strengths of the rest of our business will not be able to compensate for this issue over the long term".
Qantas has been trying to restructure its international operations in a bid to make them more profitable.
The firm said that it will close the Singapore-Mumbai and Auckland-Los Angeles routes from 6 May this year.
It has already announced withdrawals from the Hong Kong-London and Bangkok-London routes from March.
"We continue to work towards returning Qantas' international performance to profitability in the short term," Mr Joyce said.
"Our long-term goal is to ensure that the Qantas business, domestic and international combined, exceeds the cost of capital on a sustainable basis."
'Structurally redundant'
The restructuring plan announced by Qantas last year included a proposal to outsource some of its services, a move that is expected to result in almost 1,000 job cuts at Qantas' Australian operations.
Three labour unions representing engineers, pilots and baggage handlers opposed the plan.
The dispute escalated, with Qantas grounding its entire fleet in an unprecedented move that resulted in intervention by the authorities.
Qantas and the unions later entered into forced arbitration after failing to agree on pay and job security demands.
The airline has since reached a deal with its main engineers union after it agreed to a 3% annual increase in salaries for three years.
The latest announcement of 500 job cuts is likely to put more pressure on the airline.
However, Mr Joyce said these jobs were not being outsourced, but had "become structurally redundant".
"Let me clarify that there will be no jobs going offshore," he added.