Manchester Airports Group considers takeover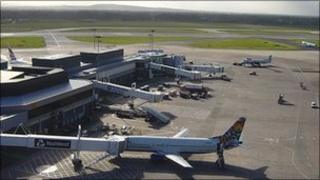 Manchester Airport's owner has said it is looking into buying another UK airport, to expand the group.
Manchester Airports Group, which also includes East Midlands, Bournemouth and Humberside, said it wanted to bring in partners to help finance the deal.
The group has not said which airports it might bid for.
But Stansted and Edinburgh airports have had to be put up for sale by their owners BAA following a ruling by the competition regulator.
The local authorities which own Manchester Airports Group are considering the recommendations, which came after a strategic review.
Manchester City Council owns 55% of the group, while the nine other Greater Manchester authorities have 5% each.
"Manchester Airports Group (MAG) is aiming high to strengthen its position as one of the leading airport operators in the country," said a joint statement by the authorities and the airport.
"MAG is already a key driver of jobs and growth in the North of England, but these proposals would allow the group to strengthen this position - and deliver maximum value for the local authority shareholders."
It added that it would now invite private equity investors to submit proposals for the deal. The process of choosing an investment partner is expected to take a few months.
The Competition Commission first ruled three years ago that BAA's dominance in London and Scotland meant it must sell Gatwick, Stansted and either Glasgow or Edinburgh airports.
It has since sold Gatwick, recently said it would put Edinburgh up for sale, and has lost a long-running appeal against the sale of Stansted.