Earnings rise fails to cover inflation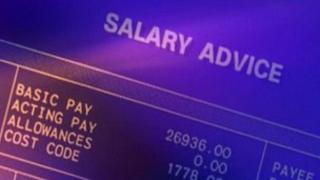 Average pay has failed to keep pace with inflation - rising by 2% a year, the latest official statistics show.
In the three months to December, average total pay - including bonuses - rose by 2% from a year earlier.
Earnings in the private sector went up by 2.3%, with the public sector seeing a 1.7% rise.
Figures released on Tuesday showed the rate of Consumer Prices Index inflation stood at 3.6% in January, down from 4.2% in December.
Purchasing power
Average total pay in the private sector was £462 a week in December (£24,024 a year), the official data shows, while in the public sector it was £477 a week (£24,804 a year).
Presenting the Bank of England's quarterly inflation report, the Bank's governor Sir Mervyn King said that people who were working had seen a reduction in the purchasing power of their pay, but there was "no easy remedy".
Workers in agriculture, forestry and fishing saw the biggest annual increase in average gross weekly earnings among full-time workers. Pay was 11% higher, on average, in the three months to December compared with the same period a year earlier.
However, pay in this industry has been volatile in the past year.
The next largest increase was in accommodation and food services, which saw pay rise by 4.4% over the same period.
The biggest fall, of 8.3%, was in financial, insurance and real estate services.
Regional breakdown
This fall might also give a clue to why the south-east of England saw the biggest regional drop in average gross earnings of full-time workers, down by 4.1%.
The statistics also revealed that female, full-time workers in the north-west of England have seen their pay drop consistently, with a 7.4% annual dip.
The biggest increase was an annual rise in gross weekly earnings of 7.9% in the East Midlands.
The official statistics also showed that there were 7,000 working days lost from 14 strikes in December. In the 12 months to December, there were 1.39 million working days lost from 140 stoppages.
This included 996,000 working days lost in November when there was a major walk-out of public sector workers protesting against changes to their pensions. This was the biggest monthly total since July 1989.