US President asks China to follow 'same rules' in trade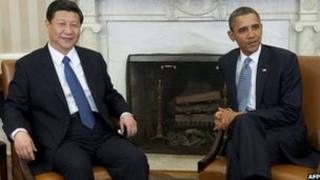 US President Barack Obama has reiterated that China needs to follow fair trade practices as it plays an increasingly important global role.
Beijing has been accused of keeping the value of its currency artificially low in a bid to help its exporters.
US lawmakers have argued that such practices have hurt US growth and resulted in job losses.
Mr Obama raised the issue as he welcomed China's Vice-President Xi Jinping to the White House.
"We want to work with China to make sure that everybody is working by the same rules of the road when it comes to the world economic system," Mr Obama said .
"That includes ensuring that there is a balanced trading flow, not only between the United States and China, but around the world."
Broader issues
China's currency policy has come under fire as its trade surplus with the US has been growing. Its trade surplus with the US rose to $295bn (£188bn) last year, up from $273bn in 2010, according to the US Census Bureau.
Beijing's exports to the US have far exceeded its imports from the world's biggest economy.
Policymakers and businesses in the US have alleged that an undervalued yuan gives an unfair advantage to Chinese manufacturers as it makes their goods relatively cheaper and helps boost foreign sales.
Analysts said that while the appreciation of the yuan will help allay some of those concerns, Beijing needed to work on other areas in order to rebalance its trade.
They said that China needed to open up its markets further for the US and other global manufacturers.
"Without market access the yuan appreciation cannot have the desired affect," Patrick Chovanec of the Tsinghua University in Beijing told the BBC.
"If you have yuan appreciation that changes the prices of Chinese goods, but it doesn't matter if American goods can't get on the shelves in China," he explained.
'Uneven playing field'
US manufacturers have been seeking greater access to China in a bid to tap into the fast-growing consumer market in the country.
However, Beijing's policies have so far limited such access.
"There is an uneven playing field for regulations in China. Foreign companies cannot participate in a whole range of industries," said Mr Chovanec.
"In some other areas they are forced to form joint ventures with Chinese companies and are forced to handover critical technology to Chinese partners."
Mr Chovanec said such policies were hindering manufacturers from entering the Chinese market and impacting bi-lateral trade.
'Work together'
Growth in the US economy has slowed in recent years plagued by a high rate of unemployment and a sluggish housing market among other factors.
On the other hand, China has seen robust expansion in recent years powered by the boom in its manufacturing and export sector.
Despite their contrasting fortunes, the two economies are heavily reliant on each other.
The US continues to be one of the biggest markets for Chinese goods. Slowing consumption there is bound to hurt China's economy.
Meanwhile, China has become a critical market for US manufacturers, led by the country's carmakers, looking to offset a slowing domestic demand.
At the same time, China continues to be the largest foreign holder of US government debt.
US Vice President Joe Biden said while the two nations had different opinions on various issues, they needed to work closely to address those concerns.
"We are not always going to see eye to eye," Mr Biden said.
"We are not always going to see things exactly the same, but we have very important economic and political concerns that warrant that we work together."