Jaguar Land Rover sales boost Tata Motors profits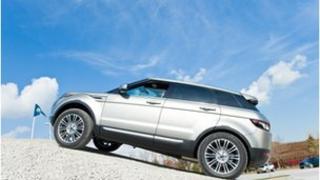 Soaring sales of Jaguar and Land Rover cars have helped Indian firm Tata Motors to a huge rise in profits, the firm has announced.
In the three months to December 31, profits rose 41% compared with 2010 to 34.1bn rupees ($692m; £441m), with sales up 44% to 453bn rupees.
Its Jaguar Land Rover (JLR) arm saw sales rise 37%, helped by selling 32,000 of its new Range Rover Evoque.
The quarter saw China overtake the UK as JLR's biggest market.
China now accounts for 17.2% of total sales compared with 16.5% for the UK.
Over the same period, the JLR business had a profit of £440m, up 57% from a year earlier.
Tata's chief financial officer CR Ramakrishnan said strong sales at Jaguar Land Rover reflected changes to the product and marketing mix.
He also cited the increasing demand for the firm's products in Russia and China, which accounted for sales of 22.4% in the quarter.
However, the firm's profit within India fell by more than half to 1.74bn rupees, which the firm blamed on an increased marketing spend and the soaring cost of raw materials.
Tata bought Jaguar Land Rover in 2008 from Ford for $2.3bn and has been credited with establishing each marque as a global brand.