Home ownership in England continues gradual decline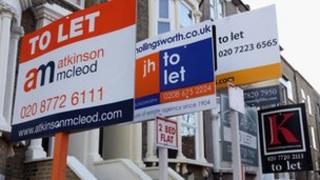 Home ownership in England continued to decline last year, according to the latest English Housing Survey.
The proportion of households living in their own homes fell in 2010-11 to 66% (14.45 million), from 67% in 2009-10.
There was an 8% rise in the number renting from private landlords to 3.62 million, or 16.5% of private households.
The number living in council or housing association homes rose too, to 3.8 million or 17.5% of households.
While 30 years ago there were 3.55 million more households in council or housing association homes than renting private ones, that gap has now shrunk to just 209,000.
The survey was carried out by the Office for National Statistics on behalf of the Department for Communities and Local Government and questioned nearly 18,000 households.
More private renting
Owner occupation has been in decline since 2005 after reaching a peak of 70.9% in 2003.
The proportion of English households that own their own homes has now fallen back to where it was in 1989.
This trend has gone hand-in-hand with a decline in council housing and a more recent surge in private renting.
In 2001, just 10.1% of English households rented from private landlords.
With a rise in mortgage lending to buy-to-let landlords, this proportion has risen steadily to 16.5% of households.
Meanwhile the proportion in social housing has stopped falling, at least momentarily.
Until last year it had been dropping steadily since 1981, when council and housing association tenants accounted for nearly 32% of all households.
However in 2010-11 both the number of social tenants (3.826 million) and their proportion of all private households (17.5%) rose during the year, up from 3.675 million and 17% respectively.
Overcrowding
The impact of mortgage rationing and the decline in house buying was revealed in the dampening of house-buying aspirations among private renters.
In 2010-11 only 22% of them expected to buy a home in the next two years, compared with 28% who had expected to do so three years earlier.
Among the many other findings of the 2010-11 survey were that:
Average weekly rents for private tenants were far higher at £160 than those in the social sector where they were £79.
Housing benefit was paid to 63% of social households but just 25% of private tenants.
90% of all homes now have central heating.
Only 10% of all owner occupiers were under the age of 35 but more than half of all private renters were in this age group.
Overcrowding among tenants continued to rise, to 7% for social renters and 6% for private tenants.
"The private rented sector as a whole grew markedly over the period from 1995-96 to 2010-11 and so, not surprisingly, the actual number of overcrowded households also increased, from 63,000 to 187,000," the survey report said.
"As with the social rented sector however, there was also an increase in the proportion of overcrowded households within the sector, from 3% in 1995-96 to 6% in 2010-11."