Project Merlin: Bank net lending fell in 2011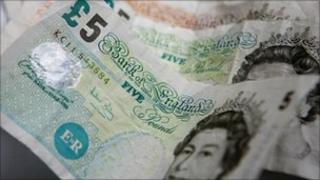 Figures from the Bank of England under the Project Merlin deal showed that total net lending from the five main UK banks' fell in every quarter of 2011.
The figures, which include loan repayments, show a 3% drop in net lending in the final quarter of 2011.
The figures also confirmed that the five banks had missed their lending target to small businesses.
Separately, a survey showed a decline in small firms using a bank overdraft or loan in the past two years.
The survey of 11,000 firms by the Federation of Small Businesses (FSB) indicated that only one in 10 firms obtained a bank loan in 2011.
Just over one in three used their overdraft facility, it suggested.
"The Merlin targets have failed," Andrew Cave from the Federation of Small Businesses told the BBC, referring to the commitments made by the UK's five biggest banks to lend more money to businesses in 2011.
"Talking to our members, 30% of them say they missed a growth opportunity because they weren't able to access finance at the right times, so there is still a problem."
The government said the figures reflected the poor economy.
"It's going to take some time before the banking sector is back to normal," said a spokesperson for the prime minister.
However Labour said the plan, brokered by the coalition government, hadn't worked.
"After a year it's now clear that George Osborne's backroom deal with the banks has been a total failure. It's been a good deal for the banks, but a bad deal for small businesses and taxpayers," said shadow treasury minister, Chris Leslie.
Missed targets
Under Project Merlin, Barclays, HSBC, Lloyds Banking Group, RBS and Santander UK, were to make it easier for smaller firms in particular to access credit.
On Friday, the banks said they had met their overall government-agreed commitments last year, with gross new loans of £214.9bn against a target of £190bn.
But £74.9bn was lent to smaller firms, less than the £76bn target.
The banks blamed the poor economic backdrop and a shortfall on fewer firms coming forward for credit.
A spokesman for the banks said: "The banks' efforts to encourage customers to come forward with borrowing proposals are set against this overall challenging economic environment.
"The business demand for credit remains weak."
In addition, some companies complain that even when loans are made available they are often not on competitive terms.
"A lack of competing sources of finance outside of banks remain part of the problem," said Lee Hopley from manufacturing organisation the EEF.
Credit easing
The Project Merlin agreement will not be repeated this year.
Instead the government plans to launch a credit easing programme, designed to make £20bn available over the next two years under a National Loan Guarantee Scheme.
The 82% taxpayer-owned Royal Bank of Scotland, which is the UK's biggest provider of business loans, has been blamed for failing to meet its lending targets after the other four banks said they had met theirs.
RBS chief executive Stephen Hester has defended the bank saying that its total lending was close to that of all the other banks combined.
"There is no bank in this country coming close to punching above their weight in the way we are. Forget Project Merlin and how it's defined -that's damn impressive. People have lost sight of that."