Boeing forecasts $1.5tn growth for Asia-Pacific market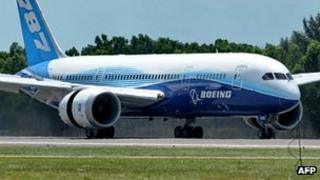 Boeing has said it expects Asia-Pacific airlines to lead the growth in the global aviation industry as the region's economies continue to expand.
Boeing said it expects the region's carriers to order planes worth $1.5tn (£950bn) over the next 20 years.
The planemaker has forecast air traffic in the region will grow by 6.7% per year during the same period.
Countries such as China and India are among the world's fastest-growing economies and aviation markets.
Boeing said it expected growth to come from the air cargo market as well as passengers.
"Our forecast bodes well for the Asia-Pacific region, which will continue to be a leader as economic growth drives a tripling of traffic and a near doubling of the world freighter fleet over the next two decades," said Jim Edgar of Boeing.
Intra-region growth
The region's growth has seen the rise of a more affluent middle class with higher disposable incomes that has resulted in growing demand for air travel.
At the same time, consumers have benefited from the rise of low-cost carriers, which have not only made air travel more affordable but have also opened up new routes to smaller cities in various countries.
Analysts have said they expect a large amount of air travel growth in the region to come from this sector.
Boeing has forecast short-haul flights in the region to grow by 7% per year over the next two decades.
The firm, which makes the 737 and 737Max single-aisle narrow bodied planes, said it expects a boost for orders of such aircraft from Asia-Pacific.
"We're making solid progress on the 737Max," said Randy Tinseth, Vice President of Marketing for Boeing Commercial Airplanes.
"We'll start wind-tunnel testing next week, which is a major design milestone, and sales momentum continues with more than 1,000 orders and commitments from 15 customers."