Tepco to get $9bn extra aid to help pay compensation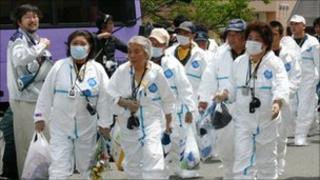 Tokyo Electric Power Company (Tepco), owner of the crippled Fukushima Daiichi nuclear plant, is to be given another $9bn (£5.6bn) by Japan's government.
The additional aid is aimed at helping the firm pay compensation to victims of radiation leaks at the plant.
The leaks, which happened after the earthquake and tsunami in March last year, resulted in some 80,000 people being evacuated.
Tepco is facing up to $100bn in compensation claims.
'Sufficient voting rights'
The company, which provides electricity to some of Japan's most economically important areas, has been going through a tough time since the disaster.
It reported a net loss of 627bn yen ($8bn; £5bn) for the six months from April to September, due to the costs of dealing with the crisis at the Fukushima plant.
At the same time, it has seen 15 of its 17 nuclear plants shut down, forcing it to generate electricity using traditional thermal power stations, resulting in increased costs.
Last month the firm increased electricity prices for corporate clients for the first time in more than 30 years, saying such a move was crucial to its survival.
All these factors have led to speculation that the government will inject public funds into the company and take over a substantial stake.
However Trade Minister Yukio Edano said any such move will only be possible if the government is given a greater say in the day-to-day running of the firm.
"If Tepco submits a business plan seeking a capital injection (from the government) without sufficient voting rights relative to the size of injection, I have absolutely no plans to approve it as long as I am in this position," Mr Edano said.