EU 'risks trade war' over carbon trading scheme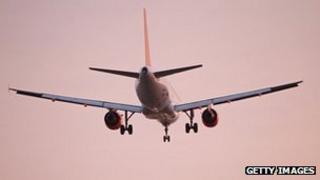 The European Union's carbon trading scheme may spark a trade war, according to one of the world's biggest planemakers.
"What started out as a solution for the environment has become a source of potential trade conflict," Airbus boss Thomas Enders said.
The Emissions Trading System levies a charge on flights in EU airspace based on carbon emissions.
But the US and China are opposed to their airlines joining the scheme.
The EU scheme, which began on 1 January, creates allowances for carbon emissions and allows airlines to "cap and trade" their allowances.
The number of allowances is reduced over time, so that the total output of carbon from airlines in European airspace falls.
China has banned its airlines from joining the scheme and the US tried to block the introduction of emissions charges late last year, in a case heard by the European Court of Justice.
However, the court ruled that they were legal.
'Ready to negotiate'
The EU insisted that it would not back down, but was ready to discuss the scheme.
"We're ready to negotiate within our framework," Siim Kallas, the EU's transport commissioner, said at the Singapore Airshow on Monday. "We aren't trying to dominate the world."
Another European Commission official said: "We recognise just how strong the opposition is. If there's a global deal, we can amend ETS.''
The US has called for the issue to be dealt with by an international aviation body. It, along with Canada, says the charges levied under the scheme violate climate change and aviation pacts.
China, which has been amongst the scheme's most vocal opponents, says it could cost Chinese airlines as much as 95m euros ($124m; £79m) in extra annual costs.
The International Air Transport Association called for the United Nations to broker a deal between airlines and the European Union.
Iata said if not resolved quickly, the issue could hurt all parties involved.
"I very much hope of course that we are not seeing the beginning of a trade war on this issue and eventually wiser counsels will prevail," said director general Tony Tyler.