Japan economy contracts amid strong yen and Thai floods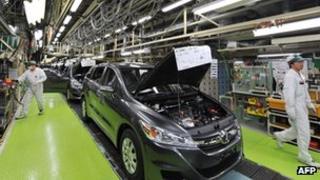 Japan's economy contracted more than expected in the last three months of 2011 as a rising yen and floods in Thailand hurt businesses.
Gross domestic product shrunk by 2.3% during the period from a year earlier, much worse than 1.4% contraction that analysts had forecast.
Compared with the previous three months, the economy shrank by 0.6%.
The numbers are a big blow to Japan's efforts to recover from the earthquake and tsunami last year.
"The economy is slowing down by more than what was expected," Martin Schulz of Fujitsu Research Institute told the BBC.
"The slowdown of exports is taking a heavy toll on industry."
Multiple factors
The data comes amid concerns of a slowdown in the global economy, not least due to the ongoing debt crisis in the eurozone.
The crisis has hurt confidence and dented consumer demand in Europe, which is a key market for Japanese goods.
Meanwhile the high rate of unemployment in the US, the world's largest economy, continues to be a concern despite encouraging economic data in recent weeks.
At the same time, some of Asia's biggest economies such as China and India have also started to show signs of slowing growth.
To make matters worse, Japanese companies have had to deal with a strong yen. The Japanese currency has risen more than 7% against the US dollar since April last year.
A strengthening yen makes Japanese goods more expensive for foreign buyers and also hurts the profits of exporters when they repatriate their foreign earnings to Japan.
Production at some of the country's biggest firms was also hurt during the period as floods in Thailand caused disruptions to supply chains.
Analysts said all these factors were hurting Japan's economic growth.
"This is a contraction driven by external demand. Exports have fallen a lot because of a triple shock from Europe, the strong yen and floods in Thailand," said Hiroaki Muto of Sumitomo Mitsui Asset Management.
"Unfortunately we can't be as optimistic about exports, because Asian economies are slowing and it will take time for the US to recover."
Few options?
The data comes ahead of the Bank of Japan's (BOJ) meeting to decide on its monetary policy going ahead.
The bank has already kept its interest rate at a historic low of between zero to 0.1% for some time.
It has also intervened in the currency markets over the past year in a bid to stem the yen's rise against the dollar.
Analysts said while there is pressure on the Japanese central bank to take measures to boost growth, the BOJ's options were limited.
"Money supply is at peak levels already," said Fujitsu Research Institute's Mr Schulz.