De Beers annual profits jump 62%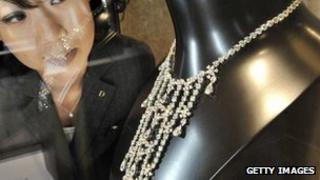 Diamond producer De Beers has announced a surge in profits as Chinese and US shoppers snapped up its gems.
Underlying profits were up 62% last year to $698m (£443m).
But the firm warned that trading slowed down in the second half of 2011 and it says that trend is likely to continue this year.
In November, the mining giant Anglo-American agreed to buy out the Oppenheimer family, giving it a controlling stake in De Beers.
The company's chief executive is cautious about the prospects for 2012.
"I don't believe we will see a major crash, but there is certainly a lot of uncertainty," said Philippe Mellier, who took over at De Beers last year.
"On the other hand, all luxury goods appear to be holding very well, and as a result, the luxury goods companies are showing there is still strong demand."
In its annual report, the company said that the price of rough diamonds rose 29% last year.