New deals for buyers as stamp duty holiday ends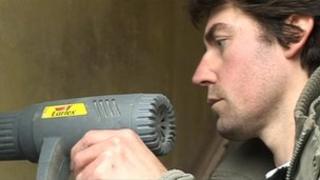 First-time buyers are being urged not to rush into hasty property transactions just to benefit from the stamp duty holiday which is due to end next month.
Those buying a home worth less than £250,000 are exempt from paying the normal 1% stamp duty until 24 March.
The tax band is being reintroduced because the Chancellor George Osborne believes the holiday has been ineffective in letting more people buy a home.
Instead the government is introducing other incentives to persuade lenders to offer loans to potential buyers.
Property market commentator Henry Pryor says people should not buy a home now just to beat the deadline.
''People must remember that the value of property can go down as well as up," he says.
"House prices over the last 12 months have fallen by 1.2% according to the Land Registry.
"If they were to continue to fall at that sort of rate or more, as some commentators are suggesting, then clearly the saving you are going to make will be wiped out very swiftly,'' Pryor adds.
'Frustrating'
Incentivising first-time buyers is seen as key to revitalising the housing market and creating construction jobs.
After the credit crunch many banks started demanding hefty deposits from mortgage borrowers of 20% or more.
The challenge for many first-time buyers has been building up that level of deposit, particularly with rents being so high.
Stuart Smith from Bristol renovates houses for a living and would like to buy his own property.
"It's really frustrating because I have so many ideas about what I could do to my own home if I owned one, but I spend my time doing work on other people's," Smith says.
"It's just getting that deposit together which is so difficult.''
New scheme
Last year the government launched the FirstBuy scheme.
It lends people part of their down-payments, interest-free for five years, but only if they buy newly built homes.
Next month another initiative is being launched.
Under the NewBuy Guarantee scheme, lenders will be able to offer 95% mortgages on new homes without taking on all of the risk if the borrower defaults.
This insurance scheme will mean that lenders will be guaranteed to lose less money than before if the borrower eventually fails to repay all their loan.
A spokesman from the Department of Communities and Local Government explained how it would work.
''If buyers can't meet the shortfall developers step in, having put aside 3.5 per cent of property price into an indemnity fund.
"If that does not cover it, the government's liability is 5.5% of the cost of the home,'' he said.
Shared ownership
More lenders are already offering better deals to buyers with only 10% to put down, but the interest rates offered are higher than for those deals with larger deposits.
Shared ownership schemes are an option and some need a deposit of just 5%.
Borrowers pay a mortgage on the share of the property purchased and also pay rent on the share they do not own.
The main drawback of shared ownership schemes is that you are limited in the properties available.
The fact that you might have to buy a brand new home may also put people off, says Melanie Bien, a mortgage finance expert.
''It can also be more difficult to sell at the end if you want to move up the ladder and we have have found people who are trapped in those homes and can't buy a bigger property because their share their value has not gone up," she says.
Saving is hard
Another shared equity mortgage concept is awaiting approval by the Financial Services Authority (FSA).
This could appeal to people who may want a larger property but do not want to increase their monthly payments.
It would only be available to people who already have a 20% deposit.
But under the scheme an investment firm, Castle Trust, would contribute another 20% of the down-payment.
That would mean applicants would only need to take out a mortgage for 60% of the property's value.
However, when the property is sold, they would have to give the firm 40% of any increase in the property's value.
The deal has not yet been approved by the FSA.
But even if it is, such products still will not help the average first- time buyer.
Stuart Smith recognises that there are deals around which could help him buy a new build home.
But he wants to buy an older property to renovate and add value to, to give him a buffer in case house prices continue to fall.
''Paying rent at the same time as saving for a deposit is really hard, I really hope a lender will come up with a deal soon which will help us buy a property we can really call our own," says Stuart.