Project Merlin: Banks miss small company lending target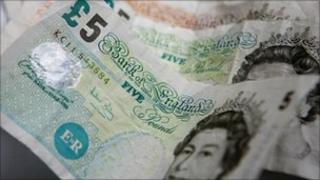 The five main UK banks have missed their Project Merlin target for lending to smaller firms, but exceeded the overall lending target, British Bankers' Association figures show.
The banks said they met their overall government-agreed commitments last year, with gross new loans of £214.9bn against a target of £190bn.
But £74.9bn was lent to smaller firms, less than the £76bn target.
The banks blamed the shortfall on fewer firms coming forward for credit.
A spokesman for the banks said demand for credit from small firms fell last year and "remains weak".
Under the government's Project Merlin deal, the five UK banks - Barclays, HSBC, Lloyds Banking Group, RBS and Santander UK - were to make it easier for smaller firms to access credit.
The collapse of many smaller businesses during the financial crisis was blamed on banks' refusal to lend to viable companies.
The £74.9bn the banks lent to small and medium-sized firms last year compares with £66bn in 2010.
'Challenging' conditions
The national chairman of the Federation of Small Businesses, John Walker, described the failure to hit the £76bn target for loans as "extremely disappointing".
"It is even more disappointing, given that the Project Merlin targets were set artificially low in the first place," he added.
"Now, more than ever, it is imperative that the government embraces plans for alternative sources of finance and puts in place its credit easing scheme."
A spokesman for the Merlin banks said: "This performance demonstrates the banks' commitment to providing businesses with the financial support they need to invest and grow and the significant progress made this year."
He cited last month's Bank of England Credit Conditions Survey, which said that the demand for credit from small businesses fell in three out of four quarters in 2011.
The spokesman said: "The banks' efforts to encourage customers to come forward with borrowing proposals are set against this overall challenging economic environment. The business demand for credit remains weak."