Total profits boosted by higher oil prices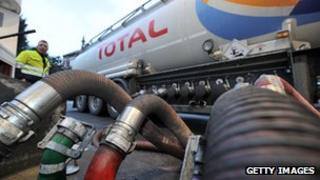 French oil firm Total has reported a 7% rise in quarterly profit, driven mainly by higher oil prices.
Total's net profit was 2.7bn euros ($3.5bn; £2.3bn) in the three months to the end of December 2011, compared with 2.5bn euros a year earlier.
Unrest in North Africa helped keep oil prices high in 2011 with Brent crude rising 26% in the three months to the end of December compared with 2010.
Brent crude hit a six-month high this week, rising over $117 a barrel.
Production flat
Although Total's profits rose in the quarter, output dipped by 1% from a year earlier to 2.38 million barrels.
"Total's fourth quarter result was largely as expected, though the flat oil and gas production could be seen as disappointing given the high global oil price environment," said Stuart Elliott, senior managing editor for European oil at the energy industry information service, Platts.
"The company pledged to return to production growth this year as new projects come on stream, which will likely please the market."
Total pointed to a 1.5% fall in production in Libya as part of the cause for its flat production levels.
The firm is one of several companies jostling for position to extract, refine and supply Libyan oil once contracts are awarded.
An auction for the new contracts, organised by the National Transitional Council of Libya, was postponed at the end of 2011.
New exploration
In a statement, Total's chief executive Christophe de Margerie highlighted the company's 2012 plans to increase its budget for exploring and finding new oil and natural gas by 20% to $1.8bn euros
Searching for new energy sources and extracting it is known in the industry as upstream activity.
"In a period of economic slowdown, ongoing tensions on the global oil supply supported the Brent price above $110 per barrel in 2011, " said Mr de Margerie.
"This environment has been favourable for the upstream but it was difficult for the downstream activities, notably in Europe."
Downstream refers to refining crude oil once it is extracted and then selling and distributing it.