German inflation still over target at 2.1%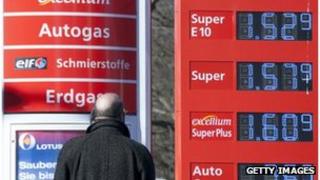 Rising energy prices kept German inflation high at 2.1% in January 2012, according to official figures from Destatis.
The inflation rate compares with 2.3% for the whole of 2011 and 1.1% in 2010. The figures show Germany moving slowly away from its 2008 peak of 2.6%.
The latest result keeps Germany outside the European Central Bank's target rate for eurozone inflation.
The ECB's target rate is close to, but below, 2%.
Excluding energy prices, inflation would have been 1.5%.
Energy prices, including motor fuels, rose 7.2% at the start of the year.
The figures come one day after the European Central Bank's latest monthly interest rate decision.
Rates were left unchanged at 1.0% by the bank in Frankfurt on Thursday, despite hopes from debt-laden southern European countries which had been hoping for a cut in rates to reduce their borrowing costs.
Separately, Italy's industrial production rose by 1.4% in December according to seasonally adjusted figures from the Italian statistical office Istat. However, output was down 1.7% when compared with the same month a year earlier.
In France, industrial production fell 1.4% in December from the month before, according to the French statistics institute Insee.