UK confirms plans to cut solar subsidies in half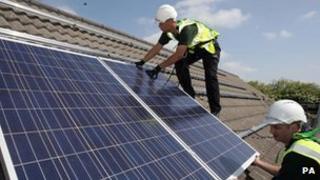 The UK government has confirmed plans to cut subsidies for solar panels on homes by half.
But it said that previous proposals were "impractical" and has unveiled new plans to make it easier to get access to solar subsidies in the future.
Friends of the Earth called the new proposals a "significant improvement" on the government's previous offer.
The government says that solar subsidies are at an unsustainably high level.
Climate change minister Greg Barker set out the government's new plans on Thursday, and that includes the possibility of further cuts in solar subsidies.
"We are proposing a more predictable and transparent scheme as the costs of technologies fall," he said. "This will ensure a long-term, predictable rate of return that will closely track changes in prices and deployment."
The government has now changed some of the terms, such as lowering the level of energy efficiency required to qualify for subsidies and a reduced rate for multiple installations - which takes into account of the lower costs of large-scale projects.
Mr Barker also said that future subsidies were to be pegged to the falling cost of solar technology.
Job loss fears
Thousands of jobs could be lost as a result of the reduced subsidies, businesses and campaigners fear.
Friends of the Earth's executive director, Andy Atkins, said: "These new proposals are a significant improvement on the government's original plans, with ministers securing increased cash and a commitment to much more solar power by the end of the decade.
"But the government's distinctly unclear solar road map leaves a dark cloud hanging over thousands of jobs," he added.
And shadow energy secretary Caroline Flint said that the cuts would mean "15-20,000 job losses".
At the same time, the Department for Energy and Climate Change said it would press ahead with an appeal to the Supreme Court over its subsidies.
Under the feed-in tariffs programme, people in Britain with solar panels are paid for the electricity they generate.
The High Court blocked its plans to cut subsidies for solar panels on homes, ruling that changing feed-in tariffs before the end of an official consultation period was "legally flawed".
Mr Barker said the government was "standing up for hard-pressed" consumers by challenging the High Court's ruling, which could cost £1.5bn.
"We don't think it is right that a few people get unnecessarily high rewards," he said.