Cold weather payments being missed by pensioners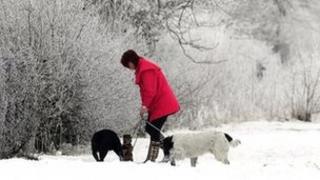 Up to 1.6 million pensioners are failing to claim benefits they are entitled to - including financial help during the cold snap.
Nearly £3bn of Pension Credit - an income-related benefit for pensioners - is unclaimed each year, according to the Department for Work and Pensions.
Those who receive it are automatically entitled to a Cold Weather Payment of £25 in freezing weather.
These payments have been triggered in two-thirds of the country.
The benefit, to help pay heating bills during a cold snap, is paid when the weather is - or is forecast to be - at or below freezing for seven consecutive days.
Some 3.7 million people have benefited this winter, with many areas having the payment triggered in recent days.
"During this cold snap it is even more important that people claim," said Pensions Minister Steve Webb.
Pension Credit tops up an income to £137.35 a week for a single person, and to £209.79 for a couple.