ECB leaves key eurozone interest rate unchanged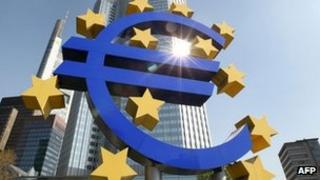 The European Central Bank (ECB) has left its benchmark interest rate unchanged at 1.0%.
ECB president Mario Draghi said the final three months of last year had been very weak, but there was recent evidence of stabilisation among countries that use the euro.
The ECB is still assessing the affect of the huge loans it made to banks in December.
Banks were able to borrow from the ECB at very low rates.
The hope was that those loans would strengthen Europe's banking industry and, in turn, help the banks lend money to businesses.
"The use of these proceeds is a business decision," said Mr Draghi.
"Our primary interest is lending to the real economy and that's where we see most of the credit tightening in all three sectors, namely corporate, household and consumption."
Banks will have a second chance to borrow from the ECB at the end of this month.
Strong demand is expected for the loans. Back in December banks borrowed 489bn euros ($650m; £410m).
Risk to outlook
In his news conference after the interest rate decision, Mr Draghi said the economic outlook remained "subject to high uncertainty and downside risks".
Economists say that could be significant, as last month Mr Draghi said the outlook was subject to "substantial" downside risks.
That could indicate that the ECB chief is a little more optimistic about the eurozone's prospects.
Greek debt
Mr Draghi would not discuss the bank's holding of Greek debt.
There had been speculation that the ECB might be considering ways to take losses on those holdings.
But the ECB chief brushed off those rumours, saying: "All this talk about the ECB sharing the losses, it's ungrounded, it's unfounded."
Mr Draghi said he would be attending the meeting of eurozone finance ministers on Thursday, where Greece will be under discussion.