Vodafone revenues dented by eurozone crisis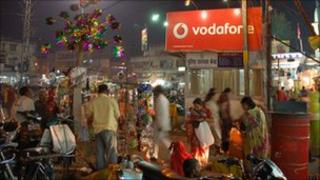 Mobile phone firm Vodafone has reported modest revenue growth after sales in Spain and Italy were hit by the economic problems in the countries.
Revenue from existing customers rose 0.9% in the final three months of 2011, compared with forecasts of 1.1%.
Trading in northern Europe was better, with sales up in Germany, the UK and the Netherlands.
Sales in emerging markets grew strongly. Turkey saw revenue grow by 23% and in India it was up 20%.
Vodafone chief executive Vittorio Colao said: "Despite the further deterioration of the southern European economic environment during the quarter, our broad geographic mix is delivering a resilient overall performance."