Rio Tinto profits fall after aluminium asset writedown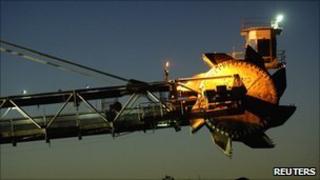 Rio Tinto has reported a 59% dip in profit after its earnings were hit by a huge writedown in the value of its aluminium operations.
The mining giant made a net profit of $5.8bn (£3.7bn) last year, down from $14.3bn in 2010.
The figure would have been higher but for an $8.9bn writedown in the assets of its Alcan aluminium business, which Rio bought in 2007.
Rio chief executive Tom Albanese said he would forgo his annual bonus.
"As the acquisition of Alcan happened on my watch, I felt it only right not to be considered for an annual bonus this year," Mr Albanese said.
He echoed comments from rival BHP Billiton on Wednesday that commodity prices would remain volatile.
"Whilst our growth programme looks to the medium and longer term, we are mindful of short-term uncertainties," Mr Albanese said.
Rio bought the Alcan aluminium business for $38bn at the height of the commodities boom in 2007.