China's inflation rate rises to 4.5%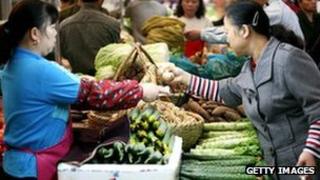 China's rate of inflation unexpectedly accelerated in January for the first time since it peaked in July, as consumers raised spending around Chinese New Year.
Consumer prices rose 4.5% from a year earlier, the National Bureau of Statistics said. That compares with 4.1% in December.
Analysts were expecting prices to rise by 4.0%.
High consumer prices have threatened to derail growth in China.
Policy decision
Inflation had been easing steadily since hitting a three-year high of 6.5% in July.
Analysts said not too much should be read into the New-Year-distorted January figures.
"January numbers are distorted by the Lunar New Year holiday and we need to wait until February numbers come out to make our conclusions," said Shen Jianguang from Mizuho Securities Asia in Hong Kong.
"I think the policymakers will wait as well."
Chinese authorities, who were once implementing measures to control high inflation, had recently begun easing monetary policy to spur growth as inflation eased and weak demand from Europe affected exports.
"The January inflation number will of course make policymakers wary of the risk and be more cautious in further relaxation of monetary policy," said Mr Jianguang.
Income gap
The New Year holiday, which fell between 22 January and 28 January this year, may have boosted prices and retail sales.
It also acted to dampen trade and industrial production as factories closed down for the celebration.
The biggest contributor to the rise was pork prices, which gained 25% compared with 21.3% in December. That drove overall food inflation to rise 10.5%.
Last year's spike in living costs spurred frustration among the public over the income gap.
Chinese leaders have been under pressure to distribute the country's economic prosperity better to the poor.
On Wednesday, in an attempt to alleviate some of those concerns, the Cabinet said it would increase the minimum wage by at least 13% each year until 2015.